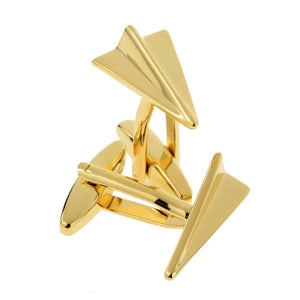 Urban Industries
Gold Plate Cuff Links, Paper Airplane Cuff Links
Regular price
$ 18.00
$ 0.00
Unit price
per
The origin of folded paper gliders is generally considered to be of Ancient China and Japan.Certainly, manufacture of paper on a widespread scale took place in China 500 BCE, and origami and paper folding became popular within a century of this period, approximately 460-390 BCE.

The pioneers of powered flight have all studied paper model aircraft in order to design larger machines. Da Vinci wrote of the building of a model plane out of parchment, and of testing some of his early ornithopter, an aircraft that flies by flapping wings, and parachute designs using paper models.

The most significant use of paper models in aircraft designs were by the Wright brothers between 1899 and 1903, the date of the first powered flight from Kill Devil Hills, by the Wright Flyer.

That inner kid in your man still appreciates a paper plane and I'm sure many have flown by in your life. Maybe it's the memories as a kid or fascination of flight, but for whatever reason these cuff links will be a big hit!

These gold plated cuff links feature a very realistic and solid paper airplane and makes a great gift for the man in your life or for your wedding party, groomsman, Father's Day - you see perfect for any occasion!

Comes in a gift box.

Fast same day or next dispatch from the US!

Ask about discounts for multiple items.
---